Creating a GoFundMe From Start to Finish
Welcome! GoFundMe is the world's largest crowdfunding platform, with over $5 billion raised so far. With a community of more than 50 million donors, GoFundMe is changing the way the world gives. With GoFundMe, it's easy to raise funds quickly for the causes you are most passionate about.
Here is an overview of what to expect when you start a GoFundMe.
We encourage you to check out some recent Success Stories or Take the Tour. You may also review Terms & Conditions if you're unsure that the content of your campaign is allowed.
Starting your account
To sign up, you will need to use an email address that you use regularly. You can also use your Facebook to create an account, but first check that your Facebook email is one that you still have access to, to ensure you can receive important emails regarding withdrawals.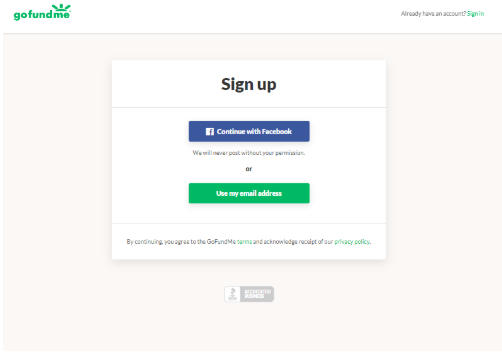 Creating your campaign
After signing up, you will begin creating your campaign. If you already have a GoFundMe account, all you need to do is choose to "Start a new campaign".
1. Choose goal amount
Your goal is important but you'll want to make sure it's attainable. It's always a good idea to reflect on how much you're looking to raise, but you always have the option to edit this later in your campaign if you find the goal is too low or too high. If you want to raise your funds for our courses - type the course price (for instance - 650 euro).
2. Create a campaign title
This is your chance to stand out. Create a title that is specific to your cause. For instance, you may type the name of the course or as in the example - The Netherlands Education Group Course.
3. Enter your zip or postal code
GoFundMe is home to many causes around the world but they aren't in every country just yet. This helps site know if the currency you've selected matches up with the code you're entering.
4. Choose your category
Choosing a category can help your donors know what you're raising funds for, but no need to overthink this part. When you raise funds for participation in our courses - choose Learning and Education.
5. After agreeing to terms and privacy policy, you will add a main image.
GoFundMe always suggest adding an image of yourself or what you're raising funds for. The image you choose should be 550 pixels wide by 300 pixels tall. You will want to use a JPEG, PNG, or BMP to ensure that it's uploaded properly. Check out this article on image tips.
You also have the option of embedding a video that you uploaded to YouTube. Make sure it's public, so that everyone can see it!
6. Write your story
A great story will be open and descriptive, and include a bit about who you are, what you're raising funds for, and how the money will be spent. If you're raising money for someone else, it's a good idea to share how you know them! You can also use the bold formatting or photo upload links in this section to further bring your story to life!
Read more about campaign stories here.
Sharing your campaign
At this point, your campaign can start receiving donations. However, no one will see your campaign until you start to share it!
That's why GoFundMe ask to connect Facebook and even attach your Facebook photo! If you don't have social media (or prefer not to connect it just yet) you can skip this option.
Another option is to email your friends about your campaign. You can start to share it by connecting your email with GoFundMe. This is a great way to import your contacts and send invitations to invite your network to view your campaign.
Remember, sharing is the key part to getting donations on GoFundMe. If you aren't sharing your campaign with your friends and family, then it's likely not going to get donations. Using your personal network can help get you closer to your goal.
Finally, you can create your own memorable link to easily share. You can simply choose the "Edit link" button to change it to something personal to your cause. You can only change your link once.
Setting up Banking Information and Managing your Campaign
You should now be taken to your dashboard. This is where you'll manage all aspects of your campaign. Edit your story, share your campaign, post an update, set up the withdrawals, add contacts! It's all found here!